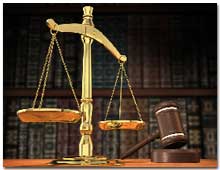 Aggravated Murder:
State v. Nason (Lane County). Lead counsel on Aggravated Murder-by-Abuse prosecution. State sought the death penalty against the defendant, who had confessed to police that he probably struck the fatal blow to the battered child victim. Eight-week trial resulted in guilty verdict for lessor offense of negligent homicide, which carried a 5-year maximum prison sentence.
State v. Rose (Lane County). Co-counsel on retrial of penalty phase in Lane County's first death sentence case since the death penalty was reinstated in 1984; handled most of the motion practice and negotiated for a true life sentence.
Artifact Trafficking & Tax Fraud:
United States v. Simpson (U.S. District Court, Eugene). Six year defense of target of Native American Artifact Trafficking (Operation Bring 'Em Back) culminating in return of seized property and exoneration of client on artifact trafficking allegations, and dismissal of felony tax fraud charges.
Bank Fraud:
United States v. Shollenburg (U.S. District Court, Medford). Bank fraud, conspiracy, and passing fictitious instruments prosecution involving "Bills of Exchange" used to obtain property. Jury trial resulted in NOT GUILTY verdicts on all counts.
Drug Trafficking:
United States v. Wallace (US District Court, Eugene). Marijuana grow conspiracy case involving search warrants based on information gained through government "trap and trace" phone calls to hydroponic grow equipment companies in Portland, of questionable legality. Extensive motion practice resulted in Government dismissing federal indictment that charged minimum-mandatory prison terms, in exchange for defendant's plea in State Court for a sentence of probation with no jail.
State v. Christopherson (Josephine County). Interstate 5 traffic stop resulting in seizure of load of marijuana and cash. Motion to Suppress based on illegal detention granted, and case Dismissed.
Murder:
State v. Groshong (Lane County). Successful representation of defendant who had confessed three times, including once on tape. Trial resulted in not guilty verdict; at that time the first murder case won at trial in Lane County in over 20 years.
State v. J.M. (Lane County). Through extraordinary defense investigation and utilization of experts, successful negotiation of case to Criminally Negligent Homicide for low-end presumptive guideline sentence of 16 months and waiver of 5-year firearm minimum sentence.
Measure 11:
State v. TW (Lane County): Hard-fought, two-week trial involving rape, sodomy, unlawful penetration and sexual abuse charges against allegedly "mentally incapacitated/physically helpless" victim, ending in not guilty verdicts on all counts.
State v. Jones (Josephine County). Defense of multi-count Measure 11 Kidnap/Assault case, resulting in a "no contest" plea to a single misdemeanor for unsupervised probation, three weeks before trial.
State v. DB (Benton County). Alleged domestic violence Measure 11 Kidnap/Assault case, resulting in jury verdict of NOT GUILTY on all counts after 15 minutes of deliberation.
State v. PZ (Lane County): First Degree Sex Abuse verdict of not guilty based on challenges to eyewitness testimony of alleged child victim and three witnesses.
Racketeering:
State v. Stant (Multnomah County). Defense attorney for accomplice in the highly-publicized Tonya Harding conspiracy case against Nancy Kerrigan. Plea negotiations resulted in Mr. Stant, who had struck Ms. Kerrigan with a baton, avoiding a racketeering conviction by agreeing to an 18-month prison sentence for assault.
Robbery:
United States v. Robert Christie (US District Court, Eugene). Highly- publicized case of the suspected "Waddling Bandit," responsible for many bank robberies throughout Oregon, according to the FBI. Defense obtained dismissal of charges against Mr. Christie, who had been misidentified as the robber. Read More...
Sex Offenses:
State v Obremski (Lane County). Highly-publicized case of child sex abuse and sodomy charges against paroled double-murderer. Successful defense involved complex pretrial motion litigation and trial proceedings over the course of about six weeks, resulting in acquittal on all charges.
State v. Corcoran (Lake County). Defense of health care professional accused of multiple felony and misdemeanor sex abuse crimes against numerous patients. Pretrial litigation and trial resulted in his conviction on only a single misdemeanor sex abuse count, with a probationary sentence.