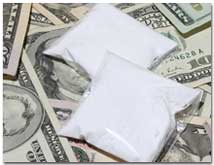 Lawyer for Federal Drug Charges in Oregon: Possession With Intent To Deliver, Delivery, Manufacturing And Conspiracies
Experienced, Aggressive Defense Against Minimum Mandatory Sentences
Federal prosecution usually targets cases where police seize a large quantity of controlled substances, or conspiracies against drug trafficking networks involving many defendants that have operated for long periods of time.
Conspiracy law favors the Government: A defendant need only have a slight connection to the drug trafficking scheme to be charged as a member of the conspiracy. That creates a real risk that an individual charged in a large conspiracy case may be found guilty based solely on evidence of what other "co-conspirators" said and did. See jury instructions in a federal drug conspiracy case here.
Harsh, mandatory-minimum prison sentences—ranging from 5 years up to life imprisonment—are triggered by the quantities of drugs involved, and increased based on a defendant's prior felony drug convictions. See 21 U.S.C. §841. If you are charged in a federal drug trafficking or drug conspiracy case—even as a first offender—you are in serious trouble. See chart of Federal Drug Crime Sentences for some of the more common drug types.
Attorney Terri Wood has successfully defended people charged with federal drug crimes since 1989. For more information, call her at (541) 484-4171. Rest assured that if you must leave a message, your call will be returned by Attorney Wood, not a receptionist or associate. Personalized attention to you and your case is guaranteed.

Illegal Police Conduct: Asserting Your Fourth Amendment Rights
Drug charges may be dismissed, or a favorable plea bargain struck, through mounting legal challenges to the police conduct leading to your arrest. Terri Wood has over 26 years of experience in litigating motions to suppress evidence of drugs seized illegally by the police. She has fought for her clients over the years by challenging:
Warrantless Searches
Pretext Searches and Illegal Traffic Stops
"Consent" Searches
Make sure the legal issues in your case are evaluated by an attorney whose abilities have been judged excellent by her peers. Terri Wood has earned the top grade of "AV" in the nationally-recognized attorney rating service of Martindale-Hubble , and is listed in "Best Lawyers in America," and Oregon "Super Lawyers" . She is ranked among the "Top 100 Trial Attorneys" in Oregon by the National Trial Lawyers Association. With your freedom at stake, don't settle for less.
Bold, Innovative "CSI" Defense
Defense of federal drug charges often benefits from employing forensic experts to challenge the Government's evidence of guilt. Terri Wood has worked with drug odor experts , forensics chemists, fingerprint experts, digital video experts, voice print analysis experts, and others, in defending these cases. She brings years of experience working with Crime Scene Investigation experts in fighting death penalty cases to the defense of drug trafficking cases. The best defense is a strong offense. Read Attorney Wood's ideas on "Defense Strategies to Counter Probable Cause Based on Subjective Sensory Perceptions," published in "Defense Strategies for Drug Crimes, Leading Lawyers on Interpreting Today's Drug Cases, Developing a Thorough Defense, and Protecting a Client's Rights" (See Book Chapter)

Skilled Negotiator and Compassionate Advocate for the Accused
Terri Wood is skilled in negotiating cases to avoid the mandatory minimum prison sentences, when other lines of defense are unavailable. She has earned a reputation as a caring, compassionate advocate for her clients, who will work tirelessly to achieve the best possible outcome. Call her today at (541) 484-4171, to discuss your options. She will fight 100% for you.