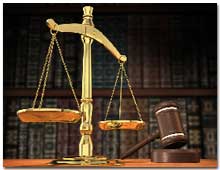 Expertise
While Ms. Wood has defended cases involving most types of felonies and misdemeanors in the state and federal courts, she focuses on defending major felony crimes, including all federal felonies and Oregon Measure 11 crimes, and misdemeanor sex and domestic violence offenses.
Para ver esta hoja en Español, haga click aqui.
Defense of State Felony Offenses
Attorney Terri Wood has extensive experience in the defense of all violent crimes including aggravated murder, murder, manslaughter, assault, robbery, rape, sodomy, kidnapping, and child sex abuse.
Ms. Wood also has defended numerous property crime cases, including burglaries, thefts, frauds, and forgeries; crimes against the administration of justice, including resisting arrest, escape, and hindering prosecution; and drug and firearms offenses.
Defense of Federal Crimes
Ms. Wood has extensive experience defending drug trafficking and conspiracy cases, as well as Armed Career Criminal and other firearm prosecutions, bank robberies, child pornography, tax evasion, mortgage fraud, and other white collar fraud offenses.
Common Defenses
Ms. Wood has experience litigating claims of self-defense, false confession, mental defenses including insanity, mistaken identity, false memories, battered spouse, voluntary intoxication, justification and consent, and illegal search and seizure.
She is knowledgeable in the forensic sciences used in the prosecution and defense of many felonies, including pathology, trace evidence, DNA, ballistics, crime scene reconstruction, criminal profiling, fingerprint comparisons, voiceprint comparisons, and handwriting analysis.
Pre-inditement Representation
Ms. Wood is experienced in representing persons before state and federal grand juries, and in representing persons accused of crimes, before formal charges are filed, in efforts to avoid state or federal prosecution or to obtain reduced charges. She has successfully represented law enforcement officers, attorneys, and other citizens under investigation for crimes to avoid prosecution.
Sentencing Mitigation
From her state death penalty cases and federal practice, Ms. Wood has extensive experience in the development of mitigating evidence and arguments for reduced sentences. She has worked with many experts in the fields of psychology, psychiatry, and other counseling professions, and has supervised mitigation investigators.