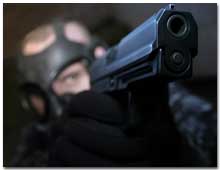 Oregon Criminal Defense Lawyer: Police Violations Of Constitutional Rights
You Need An Experienced Defense Attorney To Fight For Your Rights
The Constitutions of the United States, and the State of Oregon, protect individuals from prosecution based on evidence obtained in violation of the rights against illegal search and seizure, and illegal confessions. The Constitutions also bar the use of evidence police find by exploiting an illegal search, seizure or confession. This is called the "Fruit of the Poisonous Tree" doctrine.
Nearly every police encounter leading to arrest raises potential constitutional issues. If you have been arrested, consider these points:
The federal and state Constitutions preserve these fundamental rights, but if you do not assert these rights in court, you lose them.
Even if you consented to a police search, or made incriminating statements, the police may have violated your rights in obtaining consent or causing you to make statements.
Even if the police had a warrant, the police may have violated your rights.
Even if you are only charged in state or municipal court, your federal constitutional rights against illegal search and seizure, and illegal confessions, should be analyzed and asserted, as well as your rights under the Oregon Constitution.
The constitutional law governing police conduct and what amounts to a violation of your rights that requires suppression of evidence is complex, highly fact-specific, and constantly evolving.
Attorney Terri Wood has zealously defended the rights of her clients against the actions of police for more than a quarter-century. She has extensive experience in raising federal constitutional claims, having fought for clients charged in the United States District Court in Oregon since 1989.
For more information about whether the police may have violated your rights, call her at (541) 484-4171. Rest assured that if you must leave a message, your call will be returned by Attorney Wood, not a receptionist or associate. Personalized attention to you and your case is guaranteed.
Illegal Police Conduct: Asserting Your Constitutional Rights
Criminal charges may be dismissed, or a favorable plea bargain struck, through mounting legal challenges to the police conduct leading to your arrest. Attorney Terri Wood has over 26 years of experience in litigating motions to suppress evidence obtained illegally by the police. She has fought for her clients over the years, in the state and federal courts, by challenging:
Make sure the legal issues in your case are evaluated by an attorney whose abilities have been judged excellent by her peers. Terri Wood has earned the top grade of "AV" in the nationally-recognized attorney rating service of Martindale-Hubble , and is listed in "Best Lawyers in America," and Oregon "Super Lawyers" . She is ranked among the "Top 100 Trial Attorneys" in Oregon by the The National Trial Lawyers Association. With your freedom at stake, don't settle for less.